February 23, 2007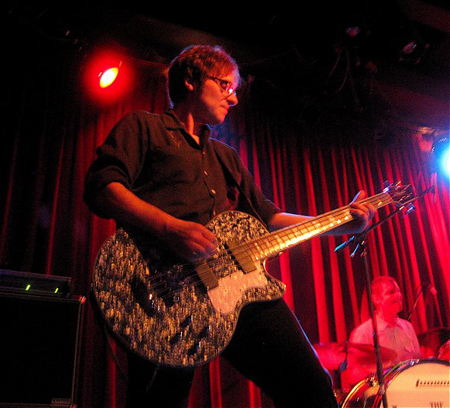 Steve Scariano  is a bass player. He is not a frustrated guitarist who had to play bass to stay in a band. He's 100% a professional bass player, and what a rare creature that is.
Which is one of the reasons he's been invited into so many bands over the decades (shown above on the left with Mick Ronson & Ian Hunter in 1979). Here's a list of bands he's currently in:
The Love Experts
JANS Project
Finn's Motel
Prisonshake
Among a dozen other bands he's been with is Turning Curious, and here's a great piece he wrote about his early years on his music, politics and doggies blog, Roll Away The Stone.

Above is a Toby photo of the Love Experts in the spring of 1989. At far left, is Steve Staicoff (a.k.a S3), and to his right is Scariano. So, they go back a ways. As does Scariano's knowledge and passion for music. S3 said of Scariano: he's one of the most encouraging guys around, always with a kind word to another musician. That's pretty rare, too, and it's that trait that made The Remodels happen.
He's our Andrew Loog Oldham in that he suggests and shapes concepts, re-directs traffic, executive produces and (the most Loog-ian trait of all) brings musical coolness to the project.  This is why we call him The Loog.